Registration for ASE 2021 Scientific Sessions Virtual Experience is now open!
This premier echocardiography conference features 57 hours of CME!
ASE Members: Receive your member discount by logging into your Member Portal and click the Events link at the top of the page and select the ASE 2021 image.
Not a member?  Please consider joining now to take advantage of discounts for this course. Or click here to be directed to register for the ASE 2021 as a guest.
ASE's registration forms work best with Apple Safari, Google Chrome or Mozilla Firefox browsers. Internet Explorer is NOT recommended and may cause problems.
To download a registration form, click here.
We anticipate the registration process will take 10 minutes to complete.
Early bird registration for ASE 2021 Scientific Sessions Virtual Experience will be available until 11:59 PM ET on May 20, 2021. Starting on May 21, 2021, all registration rates will increase by $50 (except for the abstract registration categories). Registration will close completely at 11:59 PM ET on August 31, 2021. This will give participants enough time to access all the content and claim CME credits before the content expires on the virtual platform. All session content is available on-demand until September 15, 2021.
Registration fees (except Non-CME Registrations) include:
The opportunity to claim up to 57 CME/MOC credits
Access to live & pre-recorded content (including Chalk Talks) for 90 days
Virtual social gatherings
Admission to the ASE Foundation Annual Research Awards Gala
Science & Technology Theaters, and
Admission to the Virtual Exhibit Hall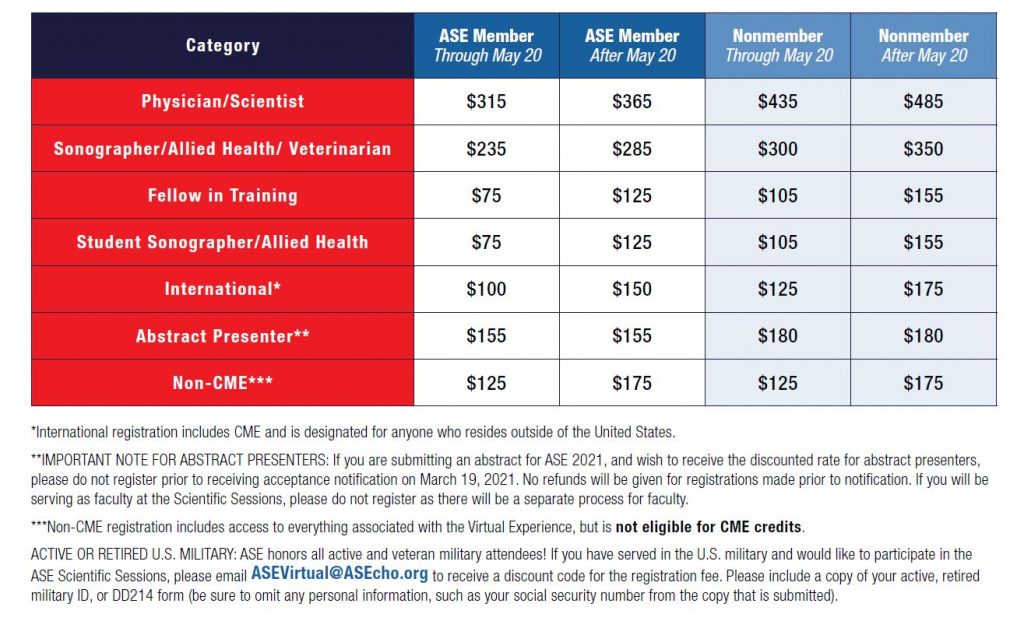 Click here to access the ASE 2021 Scientific Sessions Virtual Experience FAQs.
Add on Membership Dues
This year you can join or renew your ASE membership when you register! Your membership will be active through December 31, 2021.
Membership Rates:
Membership rates are the same for new and renewing members.
Renewal Rates:
U.S. Physician/Scientist Membership: $345
U.S. Sonographer/Allied Health/Vet Membership: $175
International Membership: $115
Fellow in Training & Student U.S. and International Membership: $75
Rising Star U.S. Membership: $160
Rising Star International Membership: $100
Professional Industry Affiliate: $345
Retired U.S. and International Membership: $100
Additional Registration Questions Include:
LEAD RETRIEVAL
You will have the option to opt-out of providing your email address to exhibitors.
EUROPEAN UNION OPT-IN (GDPR)
Citizens of the European Union, and other countries that have adopted the GDPR (General Data Protection Regulation), must opt-in to receive communications from ASE.
MATCHMAKING TOOL
You will have the option to opt-out of participating in the Matchmaking tool, and by selecting to opt-out, your profile in the virtual platform will not be discoverable to other attendees, faculty, and exhibitors.
ACTIVE OR RETIRED MILITARY
: ASE honors all active and veteran military attendees! If you have served in the U.S. military and would like to participate in this course, please email
ASEVirtual@ASEcho.org
to receive a discount code for the registration fee. Please include a copy of your active, retired military ID, or DD214 form (be sure to omit any personal information, such as your social security number from the copy that is submitted).
ASE is committed to providing a safe, productive, and welcoming environment for all meeting participants and ASE staff. A copy of ASE's Code of Conduct for Virtual Events is available online.