What to Know
ASE has held two successful Scientific Sessions in Portland and we are sure ASE 2024 will be the same. Portland is well-known for being a foodie paradise with award-winning wineries and breweries. This year we have some enhancements to make your stay even better. We have a new headquarters hotel that is right next to the convention center. In addition, we retained two popular downtown properties for people who love easy access to the world-famous donuts, art museums, and nightlife. To facilitate attendees staying downtown and getting to the convention center without taking the light rail,  ASE is providing free shuttle service!
Shuttles from the Hilton & Duniway Hotels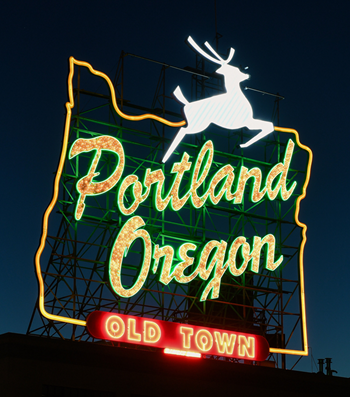 The safety of our ASE 2024 attendees is of utmost importance. To ensure everyone who is staying at the Hilton Portland Downtown and The Duniway Portland feels safe getting to and from the Oregon Convention Center, ASE has secured shuttle buses to transport attendees. The shuttles will pick-up and drop-off at the main entrance of the Duniway Portland on the corner of SW Taylor Street and SW 6th Avenue. The Hilton Portland Downtown is right across the street from the Duniway allowing easy access for attendees at both hotels.
The shuttles will run on a loop during the following schedule:
Friday, June 14: 8:00 AM – 1:00 PM and 3:15 – 6:00 PM
Saturday, June 15: 6:30 – 9:30 AM and 4:45 – 6:00 PM
Sunday, June 16: 6:30 – 9:30 AM and 3:00 – 6:00 PM
ASE recognizes that attendees may have concerns about traveling to Portland. This webpage, from Travel Portland, contains many FAQs that may be helpful. The city's leaders are exploring and implementing solutions that are consistent with the community's need for equity, respect, transparency, and accountability. This webpage contains information about how Portland is addressing  homelessness.
We recommend that visitors exercise the same caution, concern, and common sense as when traveling to any large metropolitan city.
Travel Information
If you are arriving by air, you will want to fly into Portland International Airport (PDX). We recommend you take a ride share service or taxi from the airport. The average taxi fare from the airport to downtown is approximately $35 before gratuity. The one-way trip takes 20-40 minutes. Uber and Lyft both offer drop-off and pick-up services from PDX. The cost of that trip is based on a number of factors including distance, time, base rate, etc. Visit the new Portland Visitor Center.
Portland Sightseeing from Travel Portland
Portland, Oregon's largest cithttps://www.travelportland.com/y, is a great place to bring the entire family. The city boasts 9,400 acres of parks, including the smallest park in the world (Mill Ends Park) and the largest urban wilderness (Forest Park). The iconic Washington Park encompasses sites from the formal Japanese Garden to the Oregon Zoo and its railway. Mt. Hood or the beautiful Oregon Coast are about a one-hour drive from downtown Portland. Timberline on Mt. Hood is the only ski area in North America open all 12 months of the year. Portland is also known for its eco-friendliness, microbreweries, wineries, and coffeehouses.